HEATING AND COOLING PRODUCTS IN SOUTHERN CALIFORNIA
At MightyServ, we only carry the highest quality products in the industry. We offer our customers a complete array of HVAC products from Carrier®. We also offer connected home products from Nest and Google Home.
With a full suite of heating and cooling products at our disposal, we can solve nearly any comfort challenge your home may have.
Most homes in the Los Angeles area will have several HVAC devices, including:
An air conditioning condenser unit (outside)
An air conditioning evaporator coil (inside)
A furnace or other heater
Ductwork
Thermostats
Whether you need just one component replaced, or you're looking for an entire system, we have you covered!
CARRIER COMFORT AND EXPERTISE
If it's time to replace an existing heat pump or cooling system, MightyServ has the ideal Carrier HVAC systems for your home or business. Carrier's unique Hybrid Heat solution combines dual systems into one unit. For example, our packaged gas furnace and air conditioner units provide precise control and energy efficiency in one durable design. You will see a dramatic decrease in your energy bills if you have MightyServ install one of these systems for you.
As a Carrier Factory Authorized Dealer, we're always ahead of the curve for the industry's leading technology and product standards. 
We carry the pride and prestige of Carrier's legacy in every product we sell, every unit we install and every system we maintain. It's how we've always operated and that's why we back all of our heating, cooling, and indoor air quality products with a 100% satisfaction guarantee.
Carrier products come in three series: 
Comfort™ – lowest price and good efficiency rating 
Performance™ – medium price and great performance rating 
Infinity® – highest price and efficiency rating, also compatible with Carrier's Intelligence system
You could spend a lifetime in sunny Southern California without seeing a flake of snow. But, that doesn't mean your home won't need a reliable source of heat through the cooler winter months. You can also benefit from a heater on those crisp and cool evenings throughout the year.
While we stand behind all of our heating systems, certain systems are likely more suitable to your home and budget. Our LA heating technicians can help you source the ideal system. We'll make sure it is sized appropriately for your home and keeps monthly energy bills at a minimum.
Most homeowners only buy a furnace once or twice in their lifetime. So, you might not be familiar with all the terminology and latest advances. Don't worry – our friendly team will guide you. Some systems we recommend are equipped with Hybrid Heat or Comfort Heat technology.
Hybrid Heat® Technology – Carrier's proprietary Hybrid Heat® systems gauge outside conditions to make real-time decisions on which heat source would be more efficient. This gives you the highest efficiency in the industry without any loss of quality and comfortable heat for your home.
Comfort Heat Technology® – Systems equipped with Comfort Heat Technology® will operate at a low speed to reduce system spikes and provide your home with even and efficient heat. This improves airflow, offers more consistent heat, better energy efficiency and a nearly noiseless operating sound.
Carrier systems have been cooling America since before sliced bread. Any way you cut it, Carrier AC systems are built with durability and efficiency in mind. Depending on the size of your home and your energy efficiency goals, one of our technicians will recommend a system from Carrier's three series of air conditioners.
If you want the best technology on the market that can intuitively react to outdoor temperatures and humidity levels to proactively adjust your system (without requiring your time and attention), then the Carrier Infinity® system is the way to go. This system is equipped with Carrier's innovative Greenspeed® Intelligence, combining variable speed technology and advanced Infinity® Intelligence.
If you want an air conditioner that will save you money upfront but still reliably cool your home for the next decade and beyond, then the Comfort™ Central Air Conditioner is still an exceptional choice.
It's cooling and heating, all rolled into one product. Heat pumps run on electricity and offer the best in energy efficiency. Homeowners across Los Angeles are benefiting from the year-round comfort of a heat pump system. Plus, Carrier's Greenspeed Intelligence heat pumps provide a completely connected experience, with built-in WiFi and Bluetooth capabilities.
INDOOR AIR QUALITY PRODUCTS
Air Purifiers – Your HVAC system has a filter. That air filter helps to block dust and other air impurities from entering your ventilation system. That filter does not remove bacteria from the air you breathe. To keep your air as clean and free of bacteria or other toxins as possible, you'll need an air purifier. Our team can help you choose the best air quality device for your home!
Whole-home Humidifiers – If the humidity level in your home is too low or too high, it can take a toll on your family's health and the structural integrity of your home. Our whole-home humidifier will recalibrate your home's humidity level, preventing the issues that come from keeping your home too humid or too dry.  
Ideal Humidity System – As part of a complete HVAC system, our ideal humidity gauge will monitor temperature and humidity levels to adjust fan speed, eliminating up to 400% more humidity than traditional HVAC systems. 
Carbon Monoxide Detectors – Part of being comfortable in your own home is feeling safe there. Carbon Monoxide is called the silent killer because it is odorless, colorless, and undetectable. Our CO detectors will keep you and your family safe from potentially-deadly carbon monoxide poisoning.
Our Carrier programmable comfort control thermostats allow you to control the temperature, humidity, ventilation and air purity of your home or business all in one device. For added convenience, you can program the thermostat around your particular schedule: When you are not home, the system can be turned off, which will save you even more money on monthly utility bills.
FIND WAYS TO SAVE ON HVAC PRODUCTS YOU NEED
As you're shopping around for the home comfort products you need, you might be worried about costs adding up. We can help! We offer financing options (subject to approved credit) and payment plans for larger systems as well as system and equipment rebates and seasonal deals, too! At MightyServ, it's important to us that you get the products and services you need, at a reasonable price. 
For all of your home comfort needs, questions, and concerns contact MightyServ at (818) 348-4768
This pinnacle of Carrier engineering offers accurate heating and cooling, consistent comfort, steadfast energy efficiency and peaceful cooling performance. With infinite adjustments between 40-100% capacity, you can get the exact amount of cooling and heating you need.
PERFORMANCE SERIES GAS FURNACE SYSTEM
As one of the country's leading Carrier HVAC dealers, we often recommend the Performance Series gas furnaces for our Southern California customers' heating needs. Many models are Energy Star® rated with high annual fuel utilization efficiency (AFUE) ratings, and some are even enhanced with Ideal Humidity System technology.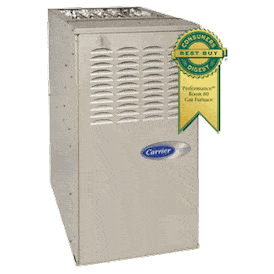 DUCTLESS SPLIT AIR CONDITIONER SYSTEM
We offer top-of-the-line commercial and home air conditioning systems. Carrier split-system air conditioners supply a quiet means of cooling the home efficiently, with impressive seasonal energy efficiency ratio (SEER) ratings. For a compact and economical option, we also carry ductless cooling systems.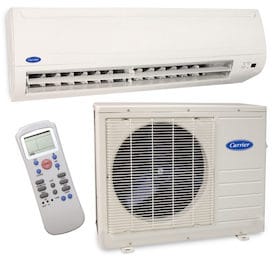 INDOOR AIR QUALITY & THERMOSTAT PRODUCTS

Besides heating and air conditioning, we recognize the need for a home to have clean air. MightyServ offers humidifiers that will quietly distribute moisture through your ductwork and eliminate the cold, dry air.
MightyServ also carries air purifiers that remove mold and bacteria from the internal atmosphere of a home or business. To further prevent mold growth, check out our UV lamps.

You may also wish to consider one of our carbon monoxide alarms, so you are aware when levels inside the building become too high. Whichever steps you'd like to take to improve the indoor air quality of your home or business, have MightyServ take a look at the property and find the best solution for you.

Our Carrier programmable comfort control thermostats allow you to control the temperature, humidity, ventilation and air purity of your home or business all in one device. For added convenience, you can program the thermostat around your particular schedule: When you are not home, the system can be turned off, which will save you even more money on monthly utility bills.
We Can Help You Decide Which Carrier HVAC Products are Perfect for Your Home!
MightyServ has been serving Southern California homeowners and businesses for more than 60 years. We take pride in the high-quality Carrier HVAC systems we offer. Our trained and experienced team is waiting to add you to the list of our satisfied customers. As we get to know you, you will become part of our family.